Electrical Handmade Realistic Legend Animals With Fur
Product Detail
Product Tags
Sound: Dinosaur, monsters, animals sounds.
Movements: 1. Mouth open and close synchronize with sound. 2. Eyes blink. 3. Neck up and down-left to right. 4. Head up and down-left to right.5. Forelimbs move. 6. Chest raises / falls to mimic breathing. 7. Tail sway. 8. Front body up and down-left to right. 9. Smoke spray.(Decide which actions to use according to the size of the product.)
Control Mode: Infrared Sensor, Remote control, Token coin operated, Customized etc.
Certificate: CE, SGS
Usage: Attraction and promotion. (amusement park, theme park, museum, playground, city plaza, shopping mall and other indoor/outdoor venues.)
Power: 110/220V, AC, 200-2000W.
Plug: Euro plug,British Standard/SAA/C-UL.(depends on standard of your country).

1. Control box:  Independently developed fourth-generation control box.
2. Mechanical Frame:  Stainless steel and brushless motors have been used to make dinosaurs for many years. Each dinosaur's mechanical frame will be continuously and operationally tested for a minimum of 24 hours before the modelling process begins.
3. Modelling: High density foam ensures the model looks and feels of the highest quality.
4. Carving: Professional carving masters have more than 10 years of experience. They create the perfect dinosaur body proportions absolutely based on dinosaur skeletons and scientific data. Show your visitors what the Triassic, Jurassic and Cretaceous periods really looked like!
5. Painting: Painting master can paint dinosaurs according to customer's requirement. Please provide any design
6. Final Testing: Each dinosaur will also be continuous operated testing one day before shipping.
7. Packing : Bubble bags protect dinosaurs from damaging. PP film fix the bubble bags. Each dinosaur will be packed carefully and focus on protecting eyes and mouth.
8. Shipping: Chongqing, Shenzhen, Shanghai, Qingdao, Guangzhou,etc. We accept land, air, sea transport and international multimodal transport.
9. On-site Installation: We will send engineers to customer's place to install dinosaurs.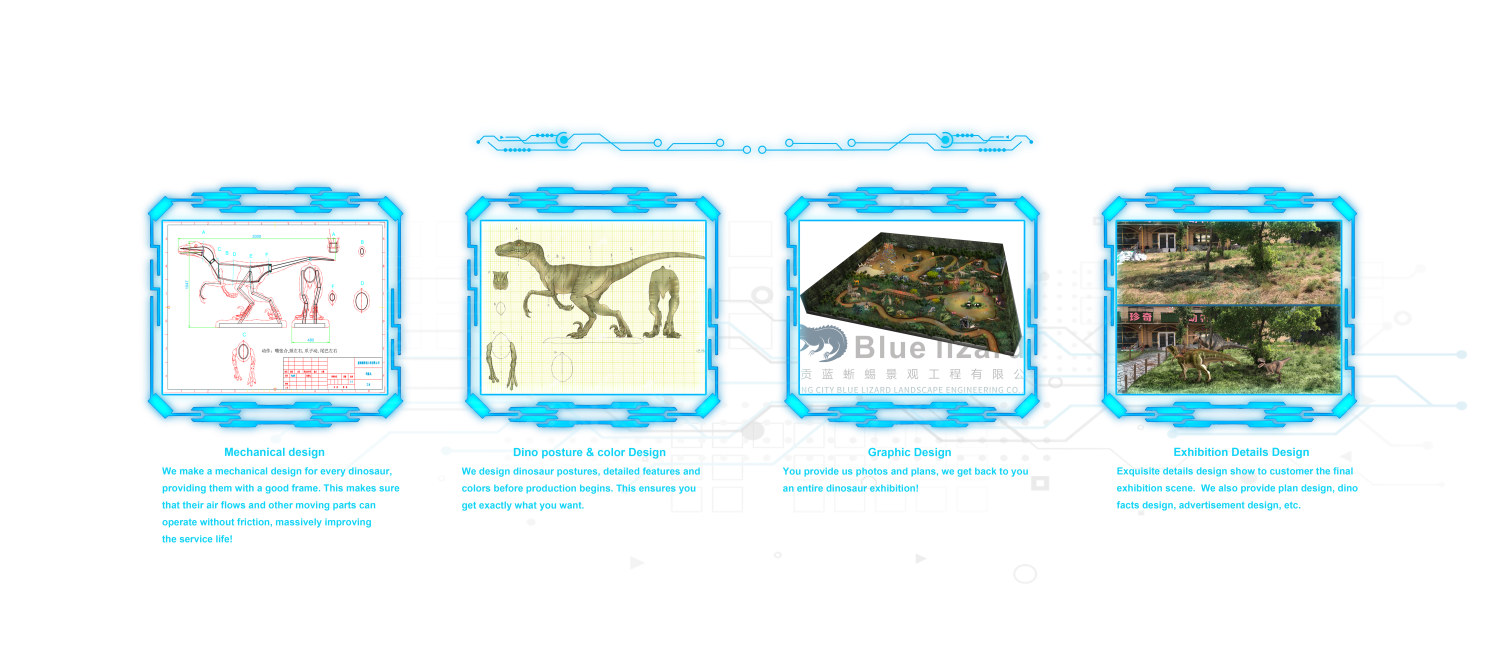 Luwu (CP-01) Overview:LUWU, or JIANWU, is the god of Kunlun Mountain in ancient Chinese myths and legends. It looks like a tiger with nine tails and a human head with sharp eyes, and its job is to manage the seasons. According to the annotations, it can be clearly known that LUWU has a higher personality and can handle the season of the Tenjin Garden, so it is by no means a gardener, but a central air conditioner that adjusts the temperature at any time. Seasons and solar terms are also under his control. 
Yeti (CP-03) Overview: The Yeti  in Himalayan folklore, is an ape-like creature purported to inhabit the Himalayan mountain range in Asia. In western popular culture, the creature is commonly referred to as the Abominable Snowman. Supposed evidence of the Yeti's existence include anecdotal visual sightings, disputed video recordings, photographs, and casts of large footprints. Some of these are speculated or known to be hoaxes. Folklorists trace the origin of the Yeti to a combination of factors including Sherpa folklore and misidentified fauna such as bear or yak.
Nine-tailed Fox (CP-04) Overview: The fox spirit,also named nine-tailed fox, is a mythical fox entity originating from Chinese mythology that is a common motif in East Asian mythology. In East Asian folklore, foxes are depicted as a spirit possessed of magic powers. These foxes are depicted as mischievous, usually tricking other people, with the ability to disguise themselves as a beautiful woman. There are different versions of the nine-tailed fox in many countries and regions. Although the specifics of the tales vary, these fox spirits can usually shapeshift, often taking the form of beautiful young women who attempt to seduce men.
Kingkong (CP-05) Overview: King Kong is a fictional giant monster resembling a gorilla, who has appeared in various media since 1933. He has been dubbed The Eighth Wonder of the World, a phrase commonly used within the films. The character of King Kong has become one of the world's most famous movie icons, having inspired a number of sequels, remakes, spin-offs, imitators, parodies, cartoons, books, comics, video games, theme park rides, and a stage play. His role in the different narratives varies, ranging from a rampaging monster to a tragic antihero.
---
---
Write your message here and send it to us