Artificial Customized Animatronic kingkong panda Model
Product Detail
Product Tags
Sound: Dinosaur, monsters, animals sounds.
Movements: 1. Mouth open and close synchronize with sound. 2. Eyes blink. 3. Neck up and down-left to right. 4. Head up and down-left to right.5. Forelimbs move. 6. Chest raises / falls to mimic breathing. 7. Tail sway. 8. Front body up and down-left to right. 9. Smoke spray. (Decide which actions to use according to the size of the product.)
Control Mode: Infrared Sensor, Remote control, Automatic, Token coin operated, Button, Touch sensing, Customized etc.
Certificate: CE, SGS
Usage: Attraction and promotion. (amusement park, theme park, museum, playground, city plaza, shopping mall and other indoor/outdoor venues.)
Power: 110/220V, AC, 200-2000W.
Plug: Euro plug,British Standard/SAA/C-UL.(depends on standard of your country).

1. Control box:  Independently developed fourth-generation control box.
2. Mechanical Frame:  Stainless steel and brushless motors have been used to make dinosaurs for many years. Each dinosaur's mechanical frame will be continuously and operationally tested for a minimum of 24 hours before the modelling process begins.
3. Modelling: High density foam ensures the model looks and feels of the highest quality.
4. Carving: Professional carving masters have more than 10 years of experience. They create the perfect dinosaur body proportions absolutely based on dinosaur skeletons and scientific data. Show your visitors what the Triassic, Jurassic and Cretaceous periods really looked like!
5. Painting: Painting master can paint dinosaurs according to customer's requirement. Please provide any design
6. Final Testing: Each dinosaur will also be continuous operated testing one day before shipping.
7. Packing : Bubble bags protect dinosaurs from damaging. PP film fix the bubble bags. Each dinosaur will be packed carefully and focus on protecting eyes and mouth.
8. Shipping: Chongqing, Shenzhen, Shanghai, Qingdao, Guangzhou,etc. We accept land, air, sea transport and international multimodal transport.
9. On-site Installation: We will send engineers to customer's place to install dinosaurs.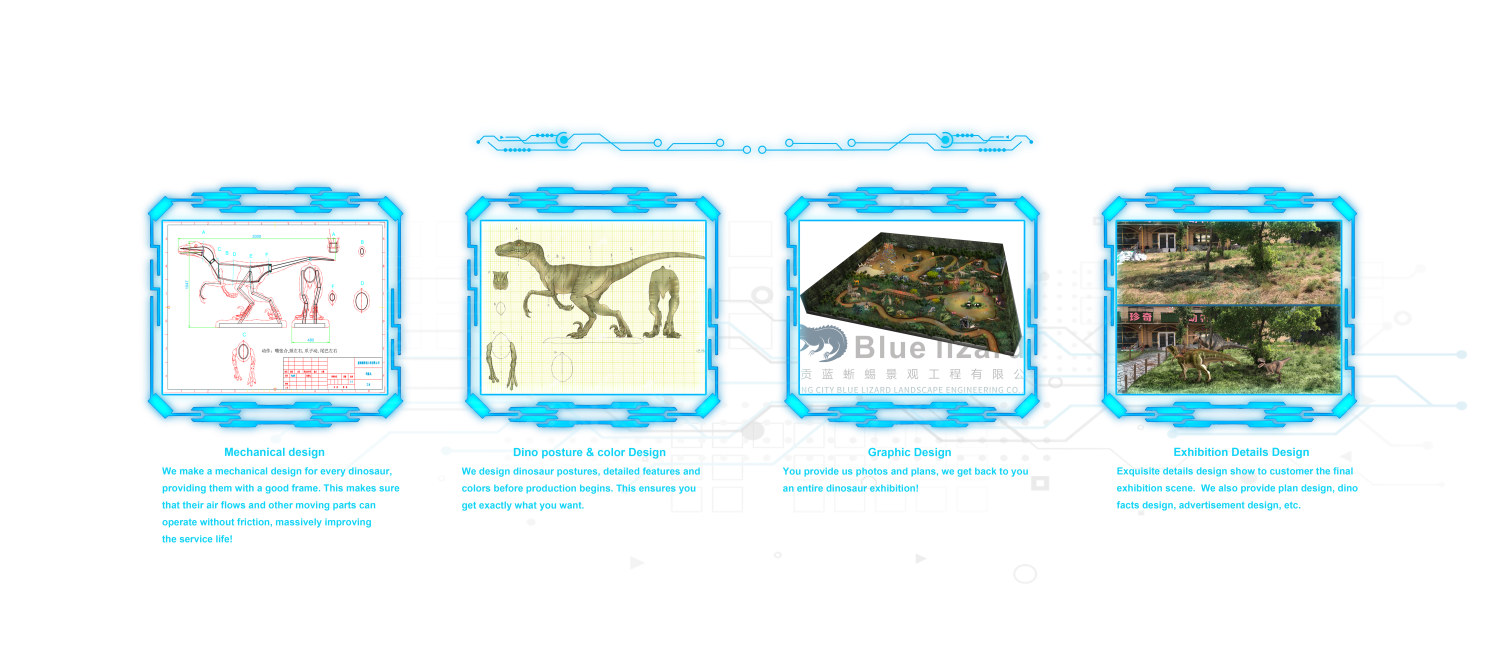 Kingkong (CP-02) Overview: The King Kong character was conceived and created by American filmmaker Merian C. Cooper. In the original film, the character's name is Kong, a name given to him by the inhabitants of the fictional "Skull Island" in the Indian Ocean, where Kong lives along with other oversized animals, such as plesiosaurs, pterosaurs and various dinosaurs. An American film crew, led by Carl Denham, captures Kong and takes him to New York City to be exhibited as the "Eighth Wonder of the World".
Battle Steed (CP-06) Overview: A Battle Steed is a horse specially trained for battle, it is stronger, bigger and faster than the average horse. Horses were tamed by humans many thousands of years ago and have always been a very important partner of human beings. They not only help humans a lot in ordinary social activities, but also play a key role in human wars. A very important branch of the ancient army, before the invention of tanks and automobiles, it has always dominated human forms of warfare and transportation.
Panda (CP-07) Overview: The word panda was borrowed into English from French, but no conclusive explanation of the origin of the French word panda has been found. For many decades, the precise taxonomic classification of the giant panda was under debate because it shares characteristics with both bears and raccoons. However, molecular studies indicate the giant panda is a true bear, part of the family Ursidae. These studies show it diverged about 19 million years ago from the common ancestor of the Ursidae.
Cartoon Panda (CP-08) Overview: In many older sources, the name "panda" or "common panda" refers to the lesser-known red panda, thus necessitating the inclusion of "giant" and "lesser/red" prefixes in front of the names. Even in 2013, the Encyclopædia Britannica still used "giant panda" or "panda bear" for the bear, and simply "panda" for the red panda, despite the popular usage of the word "panda" to refer to giant pandas. Despite its taxonomic classification as a carnivoran, the giant panda's diet is primarily herbivorous, consisting almost exclusively of bamboo.
Talking Tree (CP-15) Overview: Talking trees are a form of sapient trees in mythologies and stories.In modern times, people think that Talking Tree is a symbol of wisdom, and its image is often related to spreading wisdom, so it is very suitable to put Talking Tree in science museums or theme parks to improve children's interest.In Greek mythology, all the trees in the Dodona (northwestern Greece, Epirus) grove (the forest beside the sanctuary of Zeus) became endowed with the gift of prophecy, and the oaks not only spoke and delivered oracles while in a living state, but when built into the ship.
---
Previous:
Amusement Rides (AR-17-21)
---
Write your message here and send it to us