Game And Movie Product Series
Product Detail
Product Tags
Sound: Dinosaur, monsters, animals sounds.
Movements: 1. Mouth open and close synchronize with sound. 2. Eyes blinking. 3. Neck moves up and down. 4. Head moves left to right. 5. Forelimbs move. 6. Belly breathing. 7. Tail sway. 8. Front body up and down. 9. Smoke spray. 10. Wings flap.(Decide which movements to use according to the size of the product.)
Control Mode: Infrared Sensor, Remote control, coin operated, Customized etc.
Certificate: CE, SGS
Usage: Attraction and promotion. (amusement park, theme park, museum, playground, city plaza, shopping mall and other indoor/outdoor venues.)
Power: 110/220V, AC, 200-2000W.
Plug: Euro plug,British Standard/SAA/C-UL.(depends on standard of your country).

1. Control box:  Independently developed fourth-generation control box.
2. Mechanical Frame:  Stainless steel and brushless motors have been used to make dinosaurs for many years. Each dinosaur's mechanical frame will be continuously and operationally tested for a minimum of 24 hours before the modelling process begins.
3. Modelling: High density foam ensures the model looks and feels of the highest quality.
4. Carving: Professional carving masters have more than 10 years of experience. They create the perfect dinosaur body proportions absolutely based on dinosaur skeletons and scientific data. Show your visitors what the Triassic, Jurassic and Cretaceous periods really looked like!
5. Painting: Painting master can paint dinosaurs according to customer's requirement. Please provide any design
6. Final Testing: Each dinosaur will also be continuous operated testing one day before shipping.
7. Packing : Bubble bags protect dinosaurs from damaging. PP film fix the bubble bags. Each dinosaur will be packed carefully and focus on protecting eyes and mouth.
8. Shipping: Chongqing, Shenzhen, Shanghai, Qingdao, Guangzhou,etc. We accept land, air, sea transport and international multimodal transport.
9. On-site Installation: We will send engineers to customer's place to install dinosaurs.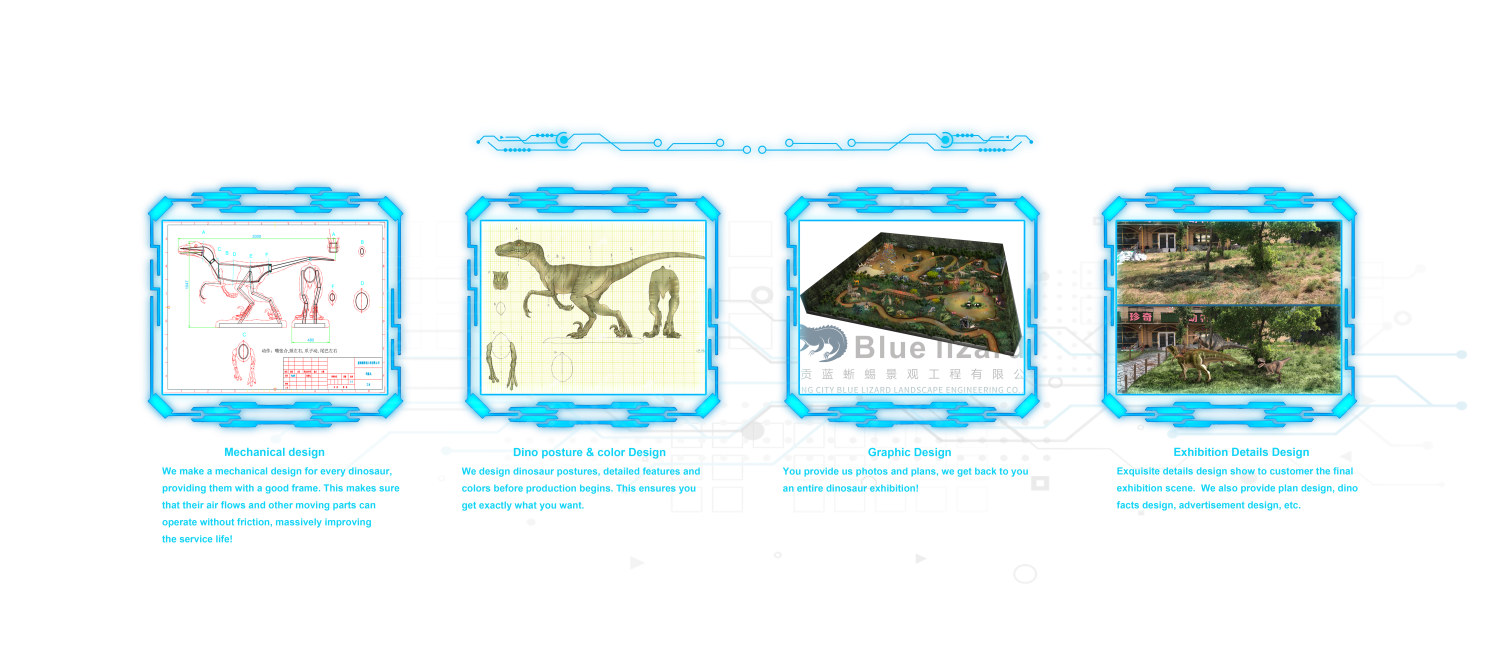 Hydralisk (CP-09) Overview: Hydralisk is a virtual unit of the Zerg in the global classic game StarCraft. It has a very high popularity among players and is widely welcomed. After being assimilated by the zerg, the tame herbivorous Sloth mutated into one of the most ferocious and cruel lifeforms in the zerg army. The evolutionary matrix of the overloaded Twisted Sloth, the zerg master, transformed the unfortunate caterpillar-shaped creature into a terrifying killer called the Hydralisk. These once benign creatures are now brutal and bloodthirsty.
Cartoon Figure (CP-28) Overview: Cartoon Figure is a variety of cartoon characters commonly seen in cartoons and animated films. This product can be customized with various cartoon characters, and any character can be made as long as it is authorized. In the history of the development of cartoon art, Britain played a very important role. As early as the end of the 17th century, many humorous cartoon-like illustrations appeared in British newspapers and periodicals, but due to the lack of full-time painters and a fixed artistic style, it was still Not on a real cartoon.
Western Dragons (CP-33) Overview: A dragon is a reptile-like legendary creature that appears in the folklore of many cultures worldwide. Beliefs about dragons vary considerably through regions, but dragons in western cultures since the High Middle Ages have often been depicted as winged, horned, four-legged, and capable of breathing fire. In western cultures, dragons are portrayed as monsters to be tamed or overcome, usually by saints or culture heroes, as in the popular legend of Saint George and the Dragon.
Magic Dragon (CP-34) Overview: The word dragon entered the English language in the early 13th century from Old French dragon.Draconic creatures appear in virtually all cultures around the globe. Magic Dragon is an evil creature in Western mythology. In movies and animations, it usually has multiple heads and can breathe fire or release lightning. In the new version of Godzilla movie, there is a very huge Magic Dragon, In the classic movie Lord of the Rings, Magic Dragon also appeared. 
---
---
Write your message here and send it to us